Actor Matt Damon has been spending time in and around Budapest as of late, getting intensive training from Hungarian horse archery master Lajos Kassai, at Kassai's school in the village of Kaposmérő. Damon is learning the Hungarian martial art in preparation for his role in the big budget Hollywood film The Great Wall, which tells the tale of the building of one of the world's seven wonders. Of Damon, Kassai had this to say (via his Facebook page) "I was invited to help Matt Damon to prepare to his new movie and to develop the action scenes. In the Hollywood production with a budget of more hundred million dollars the main character is a horseback archer. The common work has been started; Matt is an entirely exceptional talent and learns surprisingly quickly."
Though the film, obviously, takes place in China, it is no accident that Damon is studying the sport here in Hungary. Mounted archers were once feared across Europe, led by Attila the Hun in the fourth century AD. But as gunpowder increasingly replaced arrows, the art of the Huns became lost. Kassai has almost single-handedly revived the art of horse archery, and founded it as a modern sport based in ancient traditions. In the field, he holds no less than five Guinness World records, including shooting over a thousand arrows in 12 hours and his epic 24 hours spent practicing mounted horse archery. Horsenation.com calls him the "Chuck Norris of horseback archery," and not for no reason. He has also been called a modern-day Attila the Hun, though he spends more time spreading the art of horseback archery than spreading terror.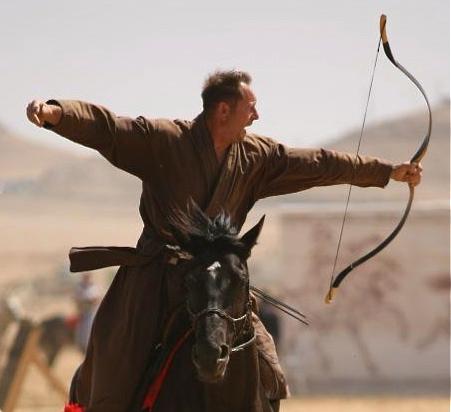 Lajos founded the Hungarian School of Horseback Archery, which has subsidiary branches in countries such as Bulgaria and Norway. Kassai's approach is rather holistic, creating unity between man, beast, and bow. In his own words, taken from his school's website:
"One cannot always perceive the rivers in his way through life. Sometimes, later, when you look back, you actually realize you destiny. I think we were born in this world not as "tabula rasa" but rather as the original destines of our souls, who have been forgotten, because of superfluous daily routine. Only those of us, capable of living without egoism, beyond the common sense, have the chance to find their soul again. Thus, I became bow craftsman. The bow was a thread of silk, as minute as a hair that I gathered and followed back to the world of my ancestors. My mind was full of horses, galloping in the steppes and arrows whizzing and snow-white yurts shining under the scorching sunlight. My inner realm was now revealed. I understood the revelation of my life. It was straight, a road leading to the ideals of horseback archery."
We look forward to hearing more about Damon's Hungarian adventure, and hopefully seeing some clips of him on horseback, arrows flying. For now you can view Kassai's skills at work in this clip from a British documentary on ballistic warfare below, followed by a promotional video for his school.
PPM Film Services is a Budapest-based film company offering an inspiring and creative work atmosphere for its host of clients from around the world. Since our inception, our focus has been providing the best of the best in terms of local production resources, locations, cast and technical teams to ensure that whatever the production we're charged to create, we do it with no compromise. To sign up for the PPM Hungary newsletter, have a look here.